Probably a little more than two years ago, I was basically forced into purchasing the Taiwanese made SPEEDY wheels (rims) at a cost of $1100.00. That price included some good quality used tyres (Nankangs) and although I had been led to believe that I was buying second hand rims, when I came to pick them up they were in fact new.
Despite being extra careful, it didn't take long for me to damage one of the units against the higher edge of a driveway. Luckily enough, it was minor enough to repair the damage bu a "wheel repair" specialist who came to my home, and after spending some one hour on the job, and $160.00 later, the repair was just about invisible. Great job, but I got to thinking - not an easy process for me at my age. Anyway, what if I damaged a rim that would be beyond repair ? Where would I get another one from ? Speedy no longer made those rims, and I could foresee that one damaged unit could result in the remaining three becoming 'useless' - I am sure you know what I mean.
So I contacted Neale's Wheels (highly recommended), the supplier of the rims in the first place. I explained my position, and they did in fact have two units still in stock. It was an opportunity that I could not let go as it was cheap Insurance in case of a mishap. The price was a very reasonable $A175.00 (for one, not two) and I picked it up the other day...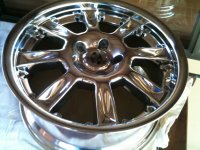 The quality of those rims is superb, and in my opinion, they even look good on Gleaming Beauty. What's left for me to do now is to purchase the second remaining rim and that should see me out.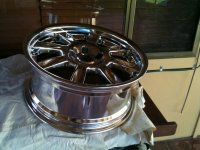 One of the appealing features of these rims is the ease in which they can be cleaned. There are really no sharp edges or difficult to reach crannies, and if so inclined, one can even reach to the inside of the wheel to remove road grime and brake dust. Regards Styria
Last edited: