Probably for the last four to five years, I have had on hand four replacement doors for Gleaming Beauty. I knew that rust was starting to be a problem with her as I had no under cover parking facilities for the last ten years - since she had been re-sprayed in the MB877 Petrol Blue - should really be green. At the time, the doors were completely stripped of all internals and fittings, the inner and upper sections were repainted and cleared with the Petrol colour, the outsides were high filled and guide coated and hung up for future use. The following picture shows two of the doors after Jerry had rubbed back the high filler, and carried out some minor repairs.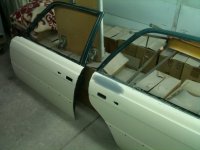 He hadn't been particularly happy with having to accept the standard of finish of the 2-pack Petrol sections that had already been painted, so a new coat was applied to all of the doors (the inner sections)...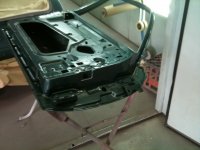 ...and honestly, it is difficult to fault new paint and new clear. I am sure you will agree.
I then turned my attention to the four doors that I had removed from Gleaming Beauty prior to her being flat-bedded to Michel's premises at Prestons. Dismantling ALL components from the doors took just on about eight hours. All rubber door seals had needed to be removed gently without tears or damage, and I used INOX to provide some lubrication in freeing the rubbers from the channel sections. These are some of my observations:
1) No wonder doors are afflicted by our friend rust - to have a fixed channel on the bottom that the rubber fits into is a sure fire way for rust to start without being aware of it - it was of no help that I had rust proofed the door internals on previous occasions...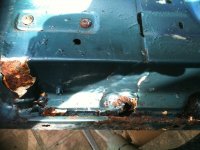 Ideally speaking, the lower mst part of the rubber seal should be partially removed in order to clean out and rust proof the channel and then refitting the rubber. Never mind the drain holes, even if they are unclogged and clear, rust still forms in that lower channel and eventually finds its way to the outside of the doors by way of rust bubbles.
2) Contrary to opinions expressed on other occasions (and/or forums), the alloy strips around the window apertures can be removed with gentle and judicious leverage - usually they are secured by two small self tappers.
3) Window Regulators - at long last, I am able to produce a photo of an after market Regulator that had been fitted to Gleaming Beauty's front passenger door back in 2001 - with the courtesy of Ofentenay's 6.9 and its previous owner. Unlike original (gear driven), it is cable operated, utterly efficient and complete replacements are available at about $280.00 - that includes the electric motor and everything (not fitting !). Compare that with about, is it $600 ?, for the genuine item (WITHOUT motor) and it starts to make sense - how many of you have painfully slow moving windows ?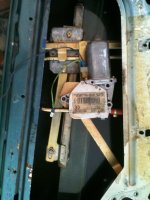 4) Regarding the Regulators for the rear doors - quite frankly, I am astounded at their apparent longevity record . The amount of distortion in the base plate, and the angle of the operating lever, are nothing short of unbelievable - don't know how they can last for as long as they do.
5) Jerry also insisted that all door apertures be re-sprayed, and to this end he carefully rubbed back all areas prior to painting. The doors were not refitted until the rest of the car had been prepared for painting.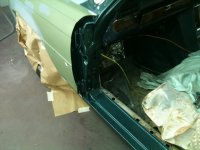 More to follow in due course. Regards Styria