I recently attended the MBCNSW concours d'elegance at Parramatta, and one vehicle, among many others, to catch my eye was the underbonnet section of a 380SL - picture previously posted, but will do so again right now.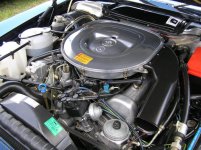 I had a really critical, and sober look at the quality of this engine bay, and for the life of me I could not work out how anyone could have achieved the sort of standard that I was witnessing. I decided basically there and then that there was no way that I could achieve that sort of quality. I do pride myself on, well, sometimes overdoing things, yet I still keep on looking at the results of my efforts and, I think, hmmm....just what is required to improve on my workmanship. If I can find it readily, I'll post a pic. of Gleaming Beauty's engine bay. So, it was yesterday that I attended to Rolls Royce concours d'elegance, and among many absolutely splendid examples, I came across this, I think, about Red over Silver - Silver Dawn. As it turned out, the owner, and I had met him previously, happened to have one side of the bonnet up, and what did I see ?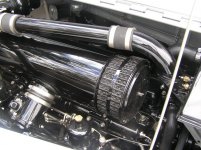 ...an engine bay indistinguisable from new - in fact, much better than new. I was gob-smacked. So I asked Abs. (the owner) sort of discreetly what it had cost him and had he done the work himself. The answer was in the negative on his part, but he did venture to say that the cost was $10K. , but he sort of added that there were ' a few more dollars' he would still have to square up with. Now, there was my answer as to why I'd have no chance of attaining that standard. Very simple. Lack of money. Someone gave me $10K. and I might go close. See what you guys think. BTW, the rest of the car was just as good, and I wonder if it was part of the ribbon recipients. Regards Styria
Okay, that's the car in question - the appearance of the boot, again everything like new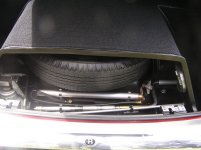 ...and this is a pic. of the overall quality of the car - honestly, as good as new. The paintwork - second to none.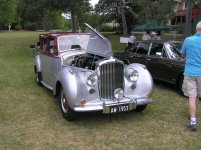 Last edited: