A have been rebuilding a 3 litre rover engine out of a p5 Mk2c coupe. It is not my car but it belongs to a customer.
The engine was rebuilt 25 years ago but was quite low on power and suffered from piston slap
Right now I am waiting for the machine shop to do the block for me and then the customer can order pistons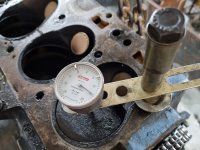 George, the owner of the car has been a personal friend for many years, and he actually asked me would I consider to become involved in the rebuilding of this engine, a Mark2C which is similar to the Mark III as featured by revised Crankshaft main bearings. In this picture illustrated, I "cobbled up" a fitting with a Dial Gauge attached to determine No. 1 TDC. As designed by the Rover Company, the crankshaft pulley has no timing markings, and obviously there is no pointer that is attached to the front of the engine. The timing marks are in fact on the flywheel that is attached to the front of the Torque Converter, and NOT attached to the rear of the engine or drive plate as is practiced by other manufacturers. In fact, the next model, the Mark III, does have timing markings on the front crankshaft pulley with a pointer attached to the timing chain cover. On instructions from myself, the mechanics when they removed the engine from the car, the gearbox was to be left attached to the converter which, in turn, is fitted to the front pump of the gearbox. This meant that I had absolutely no way of accurately obtaining TDC during the dismantling process, and I needed to make sure, as best as possible, to set the crank to TDC to determine if the engine had been re-assembled correctly when previously rebuilt. Nothing like copying old mistakes.
Observing the "cobbled up" arrangement as illustrated, there is no way that I can be certain that the assembly is right on TDC - even the thickness of the carbon evident on top of the piston is likely to influence the reading and measurement of the piston travel.
Last edited: