Hello everyone,
For those of you not familiar with my personal circumstances I have recently relocated from Sydney to Perth and in doing so have had to get my 6.9 inspected for roadworthiness and reregistered. It turned out I had a small leak from both my front levelling valve and the pump so these were duly replaced and I'm pleased to say the car passed inspection with flying colours.
However, the front suspension has been sinking overnight and much like MercedesMike's description of his car in another thread, is now failing to raise at all when the car is started. (The back stays aloft for weeks and all five spheres were replaced by Styria recently, prior to moving across.)
During the phase that the front would raise it seemed to be riding low for the first 30 mins to 1 hour of driving before eventually raising to the correct level. Also during this time the suspension warning light would occasionally - but not consistently - come on while stopped at a junction, only to go out again once I had pulled away.
As I said, the front is now refusing to raise at all: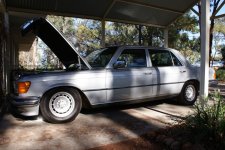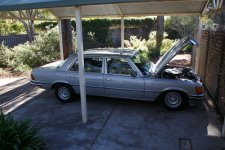 Having checked that there is no pressure in the system with the engine off (no resistance in the control disc at all), I guess I have a leak somewhere. Once I start the car I get resistance in the control disc but this disappears immediately when the engine is cut: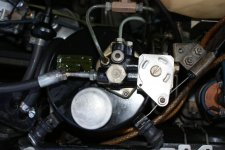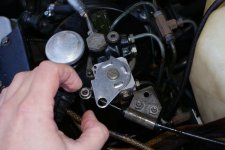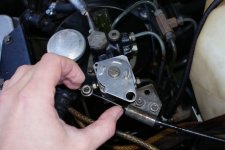 I have tried to bleed the system by loosening the sealing screw on the pressure regulator in case an airlock is causing my problem but all this has resulted in is a lot of hydraulic fluid on the floor and now a visible leak from the screw as indicated in this picture: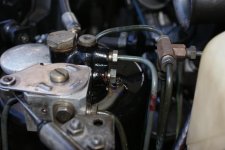 I am indicating the sealing screw with the red arrow and the pool of hydraulic fluid (the engine was off for the picture, but when on was coming out at a rate of a drop per second, probably) with the blue arrow.
I remember Styria mentioning there should be a rubber o-ring on this screw but mine does not seem to be present - perhaps this is causing problems? However, until I moved this screw yesterday to try to bleed the air from the system there was no leak here, so I'm not sure if this explains my other problems.
As far as I can tell I have the right amount of hydraulic fluid in the reservoir and the pump is working.
What is so frustrating is that the system was working flawlessly (albeit with two minute leaks) but making the car "roadworthy" has resulted in it not working. Aaagghh! What a great example of "if it ain't broke, don't fix it".
Any suggestions / theories welcomed!
Thanks,
Chris