I've been the owner of this car for about the last ten years.
Basically for those not familiar with the model, the 220SE coupe came out in 1961, at the Geneva motor show where it was somewhat eclipsed by the Jaguar E-Type. A shame as it's probably Mercedes most attractive post war design and was penned by Paul Bracq.
In 1962 the came out with the 220SE cabriolet, which while based on the coupe was significantly changed. So much so that cars that have been chopped are a floppy mess and best avoided.
In 62 they also came out with the range topping w112 300SE coupe and cabriolet with the all alloy m189 engine.
In September 65, the 220SE was replaced by the 250SE with the new seven bearing M129 engine. The cars were also updated to keep in line with the 108 but kept the 111/112 designation.
at the start of 68, the 250SE was replaced by the 280SE and just before the interiors were updated including dropping the wooden instrument cluster binnicle, the elaborate head rests and the two piece alloy wheels.
The 300SE was dropped around this time.
Finally in late 69, the last model, the 280SE 3.5 was launched. They also modernised the design by flattening the grille. The 280SE six cylinder kept on as well in left hand drive markets.
The 280SE 3.5 is the one the collectors now want although personally I would prefer a 300SE.
My car is a 10/65 production 250SE. As they only made 26 in Right hand drive, I have always assumed mine was the first RHD.
My car was originally ordered by the prominent Australian diplomat, Brian Clarence Hill. He picked up the car in Stuttgart and took it to his diplomatic posting in Geneva.
It was owned by the Hill family until the early 2000s and then sold, when it was restored.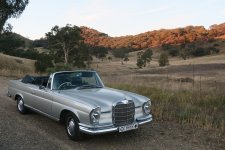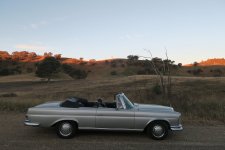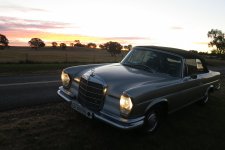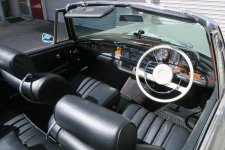 Last edited: