I guess it should come as no surprise that I have acquired a W126 in the shape of a 420SEL, built at the Singelfinden plant in Germany in 1989. Right from the outset, there are two anomalies one would not associate with a car of the implied luxury status (at the time) - the absence of a sliding sunroof (and some might consider this a blessing), and no cruise control module. The absence of the last named is remarkable. It is also supposed to be a series 2 model (whatever that stands for), but it does not have an air bag, nor does it have hydraulic self levelling - certainly not the convential system normally associated with our 116 and also the 126 models.
So, what made me buy this car offered to me on the off chance and mentioned in passing ? Firstly the price - it was very reasonable, even without seeing the car. Secondly, registered for ten months and four brand new "economy" versions of Michelins - the Energy versions that retail at about $140.00 each. I then started thinking about Gleaming Beauty (6.9) and the work I wanted to carry out on both front and rear suspension. Car off the road, no transport........you know what I mean ? I could carry out all this work at my leisure, given my present physical constraints (left shoulder and hip operations - still on mend), therefore I decided to inspect the 420.
Well, the paintwork is definitely off (meaning in need of respray) but I had been warned. Well, 'crappy paint' does not interfere with driving. I noted however, that the body was as straight as a gun barrel, with a total lack of rust (the bane of our 107s and 116s). Big Plus.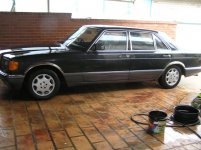 Next, a great looking interior, in absolutely excellent condition. This next picture illustrates what I am talking about - note leather dressing ALREADY on front and rear seats in the interests of longevity and preservation of the leather.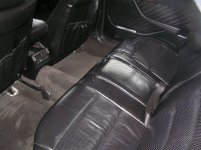 The next item to attract my curiosity was the mileage displayed - 85K. plus. Just about too good to be true, and my enthusiasm was somewhat clouded when I subsequently discovered that the odometer on the speedo is not working, and has in fact been inoperative for about six years. I bought the car through an intermediary in the Club, but I was lucky enough to be put in touch with the previous owner (he had bought an S500) who did confirm that he hardly ever used the car (maybe about two to three thousand kilometers each year) and he also gave me a bunch of invoices which confirmed regular six monthly servicing. Thus, I estimate the mileage to be no more than 100K. kilometers - and the car drives accordingly - nice and tight, with just a couple of loose ball joints in the front end.
It is fair to state that this 420 should make an excellent stop-gap performer whilst Gleaming Beauty is convalescing (again), and it is certainly in unmolested condition, as illustrated by the excellent seats and carpets (like new) and also the boot area. There were even the appropriate tools that came with the car.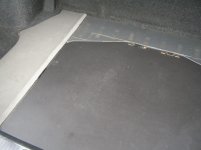 Driving impressions to follow. Regards Styria
N.B. I should not forget to mention that this 420 has the rare option of a reclining and adjustable rear seat !
Last edited: