Quite a bit of progress on the 107 of the last couple of days:
I just had the subframe mounts done, they were so bad there was metal grinding on metal. Never done in my ownership. I used the genuine ones even though they are expensive as I hear the Febi ones flatten after a couple of years. I didn't do this one myself although I hear its doable at home.
The speedo is also out as the odometer occasionally sticks and you have to press the trip reset a few times to make it go again.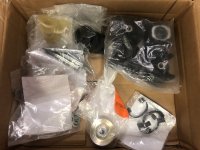 Last night I also started installing the penta wheels. It seemed like a good opportunity to clean the wheel wells while I was at it. I only learned that the wheel wells are actually body colour a few years ago, I had just assumed they were black. They were so bad I only got one done. The stuff caked on the wheel wells seemed to be a mix of old brake dust, bitumen, dirt and other debris. The thick goopy mud on the sponge reminded me of that anti-smoking ad that was on in the 90s showing tar in a set of lungs. Based on a tip from a friend, I used diluted wheel cleaner, and I was able to get a lot of this stuff off.
I could't get all of it off, but its a lot better than it was.