New project has arrived at the stable - 1987 560SEC ECE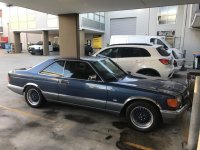 Originally a UK market car as can be seen from the side repeaters. Has the code 822 engine so 10:1 etc. imported in 2005 but surprisingly seems to be rust free underneath.
Got a long list of smaller improvements and servicing to do on the car, wheels will be coming off and being replaced with factory ones. Would like to remove chrome arch trims but they have been glued on. Wheels currently on the car will be for sale.
I've yet to remove cam covers to check condition of chain and guides. That is a job for this weekend. Looks like it will need valve stem seals due to some unfortunate puffs of smoke.
I've already changed the oil and trans oil,flushed the ps fluid, fixed the odometer and removed the gaudy chrome rings around the gauges, conditioned the leather and cleaned the interior.