I think Red Bull takes the gong for the worst struts I've ever seen....
And this explains why she felt so unstable and downright dangerous during my one and only drive. The really frightening thing is that the PO was an old(er) gentleman, who I doubt was aware of the serious problems lurking beneath the car and I'm sure he would've carried passengers! I bet the media would've had a field day at MBs expense if she came to grief causing casualties and these defects were found to be the cause....
I've also noticed that both this car and Blue Flame have alloy upper arms, which I thought was a no-no on a 6.9...
RF leaking badly. And the top mount looks stuffed. Note that the brake pad wiring loom has been removed as well: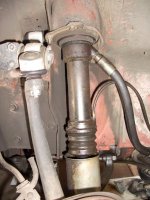 LF bump stop completely adrift and jammed at the bottom of the cup below. If there's debris between the cup and bump stop, there'd be very little travel. The top mount is stuffed as well: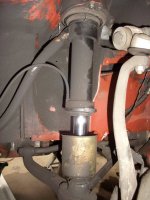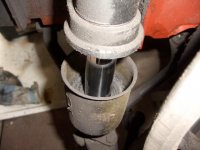 The LF lower ball joint is looking really bad: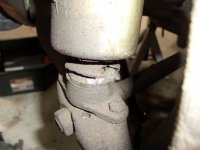 The LR is the best of a bad bunch, but obviously needs a good clean, a new boot and bump stop: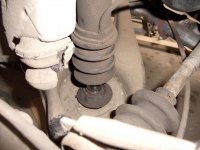 And I left the best (!) for last! I give you the RR: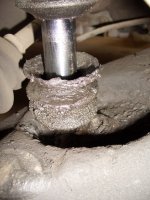 OMG the ball joint's come apart completely and I was DRIVING this thing!!!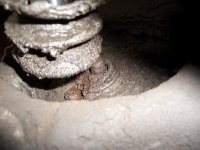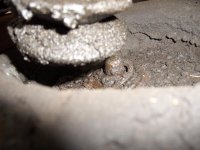 I have some work to do....
Last edited: