This product has been announced and should be available in 2022. I would imagine the local distributor, classic auto sound will carry it.
Photos for those who don't use facebook:
Note they allow the colour of the illumination to be changed, which would need to be amber to fit in with the bckers originally.
More info:
https://mcusercontent.com/ec765cdea...-375d-5b48-b0e4c6509fae/PR_GrandPrixRadio.pdf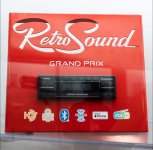 Last edited: