I've been thinking about putting my 560SEC and 450SLC back to stock radios. Only issue is that they have become so expensive on ebay.
Anyone have a Mexico cassette in good cosmetic condition they would be willing to let go of for a reasonable price? I only need the head unit, the amp was still in the car.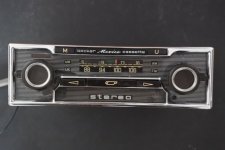 Would also be interested in finding a 1402 for the 560SEC for a reasonable price too.