Yep, you've read correctly. In addition to my 6.9 "Gleaming Beauty", I am also the proud owner of a 450SE that I bought some six years ago for the express purpose of fitting the interior to a 6.9. Incidentally, that 6.9 is now for sale, but more of that car and its details some other time. I was going to dismantle the 450SE at the time, but once I started looking at some of the finer details, and once I gave the car a good wash and clean-up, I realized that I had somethingt a little special on my hands. You know, some logbook details, original Sales Document etc. and I therefore decided that I would put the car back on the road at some time in the future.
Well, it's taken a lot longer than I had envisaged, but the time is well nigh to do so now. Incidentally, the guy I bought the car from had another 116, in gold as well but with olive green upholstery. I should have bought that car as well, but was not keen on the olive green interior colour scheme at the time. It'd be different today, as it is such a rare colour and it really was in top condition. Still sticking with the previous owner, the two cars were his and hers. GJ 2211 and JJ 1122 - nice plates and worthwhile saving. Anyway, the SE came with the first plates, and they are now on ChrisP.'s 6.9 "Wilhelm".
So, just a couple of pics. - with the car now in my garage having some polish put on and going through the paces - as it were.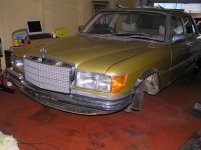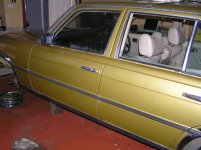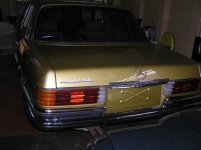 I have obviously purchased another interior in the same colour MB-Tex and I will be fitting new carpets etc. Eighteen months ago, I had already replaced the dash top as the old one had some cracks, and the Zebrano timber is totally unmarked.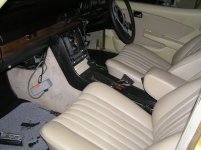 Regards Styria