See what happens when I buy bits - questions galore.
Anyway, after cleaning the copious amounts of grease and road goo off the struts, some of the boots are missing or worn/torn.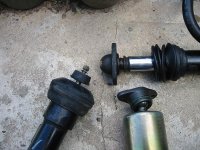 Seems to be 2 sorts of strut boots:
1) Largeish concertina one that covers the shiny part of the strut as it expands / contracts
2) Small circular one that covers the ball joint
Anyone know where to acquire these? Autohaus seems to have nothing applicable. How do you fit them - remove the ball joint socket?
Also, is it possible / desirable to replace the large solid rubber "stoppers" at the top of the strut?
Last edited: