Okeydokey,
Having degreased all the greasy bits that weren't supposed to be greasy on the 6.9, I had a little time left, so decided to fit the rather expensive headlight wipers. It came without them, although the little driveshafts from the motors still stuck out the front (behind the bumper).
Put a piece of paper over them to see if they turned, and they did - hooray!
Then removed the bumper to fit the wipers, and it all went fairly easily save a broken plastic washer water hose fitting (they cannot take the weight of the bumper it seems).
Testing afterwards - they work!
However, the headlight washers did not. A little poking around found the 2 washer pumps - one for the windscreen, and the second for the lights, tucked between the LHS headlight and radiator / oil cooler.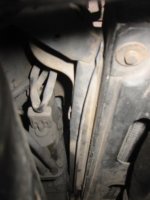 Followed the hoses etc, and found that the headlight washer water hose goes:
1) Reservoir --> pump
2) Pump --> reservoir (T piece in reservoir cap)
3) Reservoir --> lights
See pic: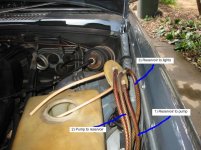 The T-piece is not closed off at the base of the T, so it allows water that has been pumped to go back into the reservoir: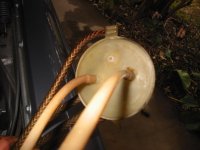 Why is this? Were MB too lazy to get a lower volume pump, so they just routed the flow back via the reservoir, with ~1/2 of it dribbling back in?
Why is this?
Anyway, a bit of messing with it and lots of window washing did eventually cause water to flow. Once I replace the little L-piece I broke, it will probably all work.
PS - the cars is running better after it's been driven properly - those Italians knew what they were doing.
Lukas
Last edited: