Hi all,
Long story. Basically, I bought a 450SE I shouldn't have a while ago, but it was cheap (initially), etc. Have been wanting to post about that for a while and still do, but in the interim.....
That 450 needed a new bumper amongst other things. An ad came through the local MB club recently about a tow truck driver who tows dead cars, parts them and then scraps the rest. They got a 116, and as they don't usually deal in Mercs, offered it via the club. I offered a little for the bumper or a little more for the whole car (didn't need any other bits, and already have a stash from dismantling the 450SEL). Ended up getting the whole car for $300, on the basis that they take the shell back for scrap.
The car has ~315,000km, and had been lowered, extractors fitted, etc. After some harsh driving something snapped in the engine, so here 'tis. It also has quite a lot of rust, so it was not long of this world either way. Pics: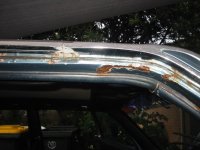 Top of door frame rust - that's new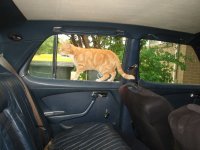 Rare optional extra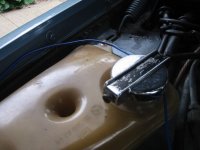 Different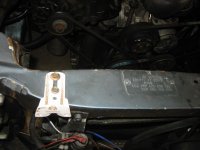 Options and a curtain rail holder - I think the grille was mounted to this to keep it down when the bonnet was raised?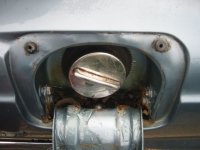 Filler rust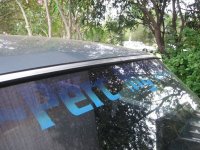 Perc my Merc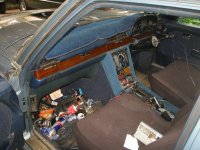 Charming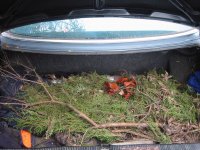 Spot of gardening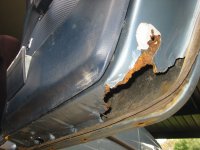 Epic door rust - the central locking actuator in this door was floating inside the door - its mount was also nothing but rust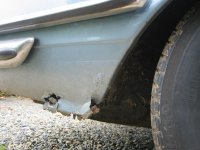 Rear rust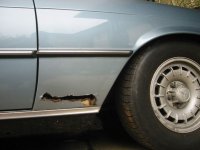 1/4 rust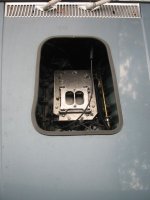 Extractors etc go here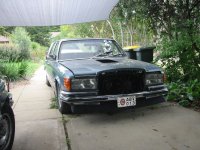 Spolier - you can just see the 450SE that needs a bumper on the left
So, this car is blocking my driveway, and I'm trying to dismantle it as fast as I can. My neighbours must love me. There are some bits that I definately won't need, i.e.:
Roof liner - short, no sunroof, good nick less one stain in a corner
Transmission
Seats - blue MBtex, one decent front (1 tear), back might scrub up OK
Blue door cards with MBtex insets
There will be more I imagine. Let me know if any intrest.
Finally, option codes for this one:
586 BEHR AIR CONDITIONER, AND ELECTRIC WINDOW LIFTERS (FRONT AND REAR DOORS)
599 HEAT-INSULATING GLASS FOR SIDE AND REAR WINDOW PANES; SEDAN: HEATED REAR WINDOW PANE, LAMINATED GLASS
625 VERSION FOR AUSTRALIA
619 HEADLAMPS AND FOG LAMPS OR ADDITIONAL HIGH BEAM, AMBER; AND HALOGEN LAMP UNIT WITH HIGH BEAM/LOWBEAM/FOG LIGHT, R.H. TRAFFIC
877 READING LAMP IN THE REAR
220 REAR DOOR CONTACTS
496 EXHAUST EMISSION CONTROL, INAPPLICABLE TO VEHICLES EXPORTED TO THE U.S.A. OR TO CANADA, WITHOUT AIR-COOLED OIL COOLER
468 CENTRAL LOCKING SYSTEM AND REAR FOG LAMP
480 SELF-LEVELLING SUSPENSION
Lukas
Last edited: