Ok... so, as there was no real interest in the 450 race car I had for sale, I made the decision to transfer all the parts to my 450SE 6.9.
A few reasons.. The front end on the 690SE needed work done, and the race car already had the entire lot done last year so the parts could simply be transferred.
And I wanted to put a good package together to tackle the mountain in 3 weeks.
Along with swapping parts off the race car, I also had a bunch of other bushings and assorted parts that needed to be done.
We started @ 10.30am Saturday and finished at 3am on Sunday morning. Massive thanks again goes out to :mrgreen: for use of his workshop!!
List of work done.
Front End:
Ball Joints L/R
Tie Rod End's L/R
Drag Link
Upper Control Arm & Bushings L/R
Lower Control Arm & Bushings L/R
Subframe Mount Bushings - Both
Steering Damper
Rotors checked (560 rotors are installed so the slutted rotors were not installed as they're smaller)
Brake Lines L/R - Now Braided 8)
Front Shocks L/R (I had only installed the Bilstein HD shocks about 2months ago, the race car had the same HD Billi's, BUT - they've been re-valved from Track use, so I've decided to use these) [PM if your interested in the 2month old HD Bilsteins - they were $400 USD for all 4]
Front Springs L/R (K-Mac springs were installed in the race car - remembering they only had to hold up a 4.5L M117, and as they were so short we cut the guards out to enable full lock - but they worked a dream)
Rear End:
Subframe Mount Bushings - L/R
Brake Lines L/R - Now Braided
Rear Shocks L/R (Same deal as the fronts, the race car's shocks had been re-valved for comp use)
Rear Springs L/R (K-Mac HD also)
Rotors L/R (Brembo rotors installed from race car)
Basically, was a total front end re-build. The car (after I get a wheel alignment done) will be toight as. 8)
Only issue at the end of the day is, the K-Mac springs are too low for a 116 with an M100 installed. As stated, it was ok for the M117 but the extra weight of the M100 and more fluids, just crippled it.
The guard lips where banged in, and full lock is possible with no scrape, though even slight bumps in the road create that disgusting grating feeling.
Result is, I've now ordered some new springs that will be 2" lower than standard but also Heavy Duty. So should have the best of both worlds hopefully.
Pics: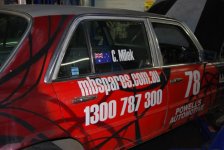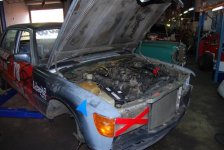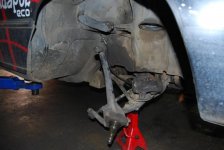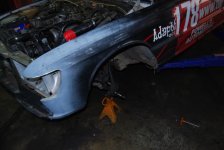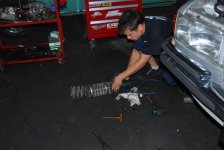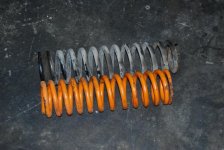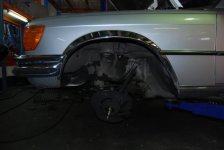 Didn't get to installed the race seat, but here's a snap of the rails that have been fabricated. Will install the seat before the event.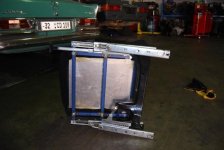 The now seatless race car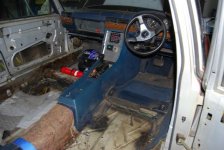 The pushbutton un-fortunately won't be transferred over as the 690 is also a cruiser - If anyone's interested in that, let me know. :roll: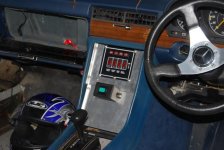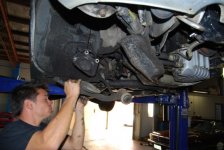 Spring Difference (but the K-Mac's have the 23mm rubber shims on them)