Messages

788
Points

0
Location
THE DESIGN :
Trusty rusty has for some time run with the original spec 6.9 exhaust borrowed from the red car. The time had come for trusty rusty to get its own system now.
I did detailed measurements and design, and I provide them here for anyone else who may be interested.
Some calculations show that for a 6.9 euro, intended for street use, around 52.5mm ID is ideal (two of). For track use, something a little larger could be used.
The original piping is 50mm OD, which benefits low end torque at the expense of ultimate top end power. I intend to go to the next size up, being 57mm OD, 53mm ID - very close to ideal. (This is quality thick wall (2mm) 308 series stainless).
I measured the original silencers, and modified the designs slightly to accomodate 57mm tubing.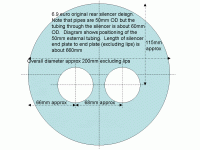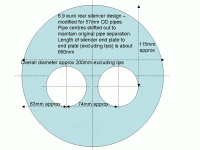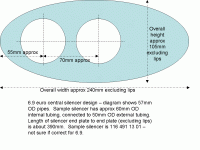 In general, an X-box or balance pipe is desirable on a V8, but the consensus seems to be that 6.9's never had them. So I did not have one fitted (in the interests of originality) though in theory it should give a useful performance benefit.
Last comment - as is well known, the 6.9 header arrangement is far from ideal. Given the space constraints, there's not a lot that can be done about it. The ID at the outlet of the manifolds is 42mm, well below ideal.